Your #1 Miami Real Estate Expert : Daniel Echague
Your #1 Miami Real Estate Expert : Daniel Echague
Buying a home is an important decision for many people. It can be a complicated process, but it can also be one of the most rewarding in your lifetime.
There are many financial, social and emotional factors to consider when buying a home. The most important thing to remember is that you need to find the right home for you, not what's best for everyone else. The most important thing to consider when buying a home is what is best for you. What do you want out of your new home? Do you want a yard, or do you not mind if the yard isn't there? Do you want a short commute or longer commute? These and so many other factors go into buying a house.
It's important to do some research and find the right home for you. Things to consider before buying a home:
What will be my primary use of the property?
-Homeowner/Renter-Investor-Owner occupant vs long term renter-Student or temporary resident (i.e. moving out of state.
Buying a home is one of the most important investments you will ever make. It is also a big commitment. The decision to buy a home should not be taken lightly and should be based on the following considerations:
– The type of home you want to buy
– How much you can afford to spend on your monthly mortgage payments
– Whether or not you have enough money for a down payment
– Your credit score
– Income requirements for your desired home
– Your understanding of the property's market value, as well as what it will cost to maintain and repair it
– What your long term plans are with regards to living in that specific area
Real estate agents are people who help you find the right home and negotiate with the seller on your behalf. They also provide other services such as helping you finance your purchase or finding insurance coverage. Real estate agents are given freedom to create their own niche and develop a specialization. They usually specialize in anything from a rural area to high-end condos in the city as well as single family homes and pre-builds.
So you are looking for a home in Miami, we have just the agent your should talk to. We would love to introduce you to Daniel Echague, Sales manager of Elite Sales Group in Miami, Florida. 
Miami is a city that attracts thousands of people every year. It is famous for its rich culture, beaches, and vibrant nightlife. The real estate industry in Miami has grown exponentially in the last decade as more people are moving to the area.
A Miami realtor can help you buy your dream home in the area. They will help you find a place that suits your needs and budget. A good realtor can also guide you through the entire process of buying a home and make it an easier process for you.
Don't forget to check out 'Resources' section where you can find a real estate attorney, lender or custom home builder.
Buying a new home is one of the most exciting and important decisions in your life. It can be a daunting process, but with the right guidance, you can find your perfect home. This section will help you through the process of choosing a real estate agent and getting pre-approved for financing. We'll also provide some useful tips on how to make sure that you are getting the best deal possible when buying a new home.
Who Is Daniel Echague?
Daniel is the sales manager for a real estate agency in Miami. Elite Sales Group. Miami is a beautiful city with a lot of things to offer. It's no wonder that many people are looking for homes here. And it's not just tourists and snowbirds who are interested in Miami real estate. Many people from all over the world have chosen Miami as their home, because it has an international vibe that can't be found anywhere else in the United States.
We love this condo in Bal Harbour and so will you!
Buying a new home is a big decision that most people will make in their lifetime. It is important to do your research before you decide on what type of home you want to buy.
A good way to start your search for the perfect home is by talking to a real estate agent. A realtor can help you find out what types of homes are available in the neighborhood and price range that you are looking for.
Let's find out who Daniel is. According to his bio Daniel is "A man of the people and a trader by nature, Daniel Echagüe started his life in the industry back in 2012, managing a Real Estate Investment company to its success, and participating in hundreds of deals as a Realtor®, with local and foreign clients. His vast experience in sales, strategy and compliance, give Daniel the ability to support our agents and clients in every scenario of a Real Estate transaction. Dedicated and methodical, his priority is to be of service to his clients."
Daniel loves to do a through job explaining every aspect of the process to his clients so they have a complete understanding as to what is going on and what happens next. He even provides his clients with materials that lay out the entire purchasing process and loves to work with everyone involved in the deal to make the sale successful.
The Miami real estate market is one of the most exciting in the world. Buying a home in Miami, Florida can be a difficult process, but our team of professional real estate agents will help you every step of the way.
Miami Real Estate
Miami is a city with a Latin-American vibe, a vibrant nightlife, and an attractive lifestyle.
Miami is a tourist destination with a tropical climate. It attracts more than 44 million visitors every year because of its beautiful beaches, the diversity of its population, and the city's vibrant nightlife.
Miami is one of the most popular tourist destinations in the world. Tourists flock to Miami for its beautiful beaches and exciting nightlife. But there are many other reasons to visit this tropical city. With its proximity to Central America, it offers great access to some of the most interesting countries in the world. And with its welcoming attitude, it's an easy place for people from all over the world to call home.
Many people move to Miami for work or pleasure – but no matter what your reason for coming here, you'll find that Miami has something for everyone! Whether you're looking for a place to raise a family, start your own business, or enjoy the party scene, Miami has something for everyone. 
Miami is a city that attracts people from all over the world. The climate, the beaches, and the lifestyle are just some of the many reasons why people love Miami. There are many different neighborhoods in Miami that one can choose to live in. The Brickell neighborhood is one of them and it has a very interesting history.
The Miami Beach neighborhood is also a popular place for tourists and locals alike to visit because of its beautiful beaches, hotels, restaurants, etc. Miami has been described as "a melting pot for cultures" which makes it a great place to move to if you want to experience different lifestyles and cultures than what your area offers.
Did you know there are over 35,000 Miami real estate agents?
Miami is a great place for home buyers because of the many options available. There are condos, townhouses, single family homes and more. You can find something that suits your needs at an affordable price.
Great location so don't miss out on this wonderful condo!
Miami is a coastal city in South Florida, United States. It's known for its beaches and tropical climate. The city has an impressive skyline with many modern high-rises and beautiful old buildings.
If you want to buy a home in Miami, it is important that you find the right realtor. A good realtor will help you find your dream home and negotiate on your behalf to get the best deal possible for your budget. They will also help you with all of the paperwork so that you can close on your new property without any hassles or delays.
Miami real estate can be tricky to navigate, so it is important that you have someone like Daniel on your team who will walk step-by-step with you through the entire process. Whether you are looking for Miami luxury real estate or single family home, Daniel can help you get the home of your dreams.
Miami is a city of beautiful beaches, luxury resorts, and countless opportunities. It's the perfect place to live if you want to enjoy the good life. Miami has been ranked as one of the top cities in the US for its quality of life. It's not just famous for its vibrant nightlife and luxury lifestyle – Miami is also an international hub that offers many career opportunities. Miami is a city of countless opportunities. It's the perfect place to live if you want to enjoy the good life.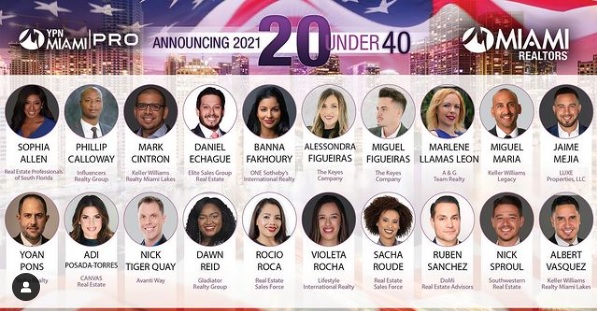 For his achievements in Miami real estate, in 2021 Daniel Echague was awarded for being one of the top agents under 40 years old in Miami. The award was presented by Miami Realtors Young Professional Network. 
Luxury condo for sale in Miami.
Elite Sales Group
Elite Sales Group "is a full service Real Estate brokerage with agents experienced in every aspect of Real Estate. Areas of specialization include Luxury, Single Family, Multi Family, Rental, Foreclosures, Short-Sales, REO, Commercial Properties, Income Producing Properties, Foreign National Transactions, and Residential Transactions."  No matter what area of Miami real estate you are focused on Elite Sales Group has you covered. 
Elite Sales Group also has an in-house title company to assist all their clients with questions and every aspect of the title service. 
What's Next in Miami?
The real estate market is evolving. Cryptocurrency and blockchain technology have been gaining a lot of momentum in the real estate industry. There are many use cases for cryptocurrencies in real estate and one of them is cryptocurrency mortgages.
Cryptocurrency has become a popular payment option for real estate transactions. This has led to the emergence of cryptocurrency mortgages, which are an instrument that allows buyers to purchase real estate with Bitcoin. This new type of mortgage is also known as a crypto mortgage or NFT mortgage (non-fungible tokens). It is an alternative form of collateral that allows borrowers to use cryptocurrencies as a substitute for their down payment.
NFT mortgages are still in the early stages of development, but they have already been implemented by some companies in the United States, Canada, and Australia. They offer buyers the chance to buy property without having to sell their cryptocurrency holdings.
The real estate market is changing drastically. Cryptocurrency is one of the most disruptive innovations in the real estate industry. It has already started to change how people buy and sell real estate, and it will continue to do so in the future.
Some of the ways cryptocurrency is being used in the real estate industry are:
-A mortgage can be paid with bitcoin or other cryptocurrencies
-NFTs (non-fungible tokens) can be used for buying property
-Cryptocurrency can be used for exchanging funds between different countries
-Cryptocurrency can be used to buy properties that are not yet available on any market
Did you know that the first cryptocurrency mortgage took place in Miami?
Miami real estate is evolving with the times and some brokerages are allowing cryptocurrency to enter the picture when it comes to paying for a home. Even NFT's have appeared! We believe that Elite Sales Group will keep up with the times and eventually get their feet wet when it comes to cryptocurrency and NFTs in the Miami real estate market. 
Looking for a great deal on a condo? Click here. 
Contact Daniel Today
You can always reach Daniel at daniel@esgrealestate.com or his Instagram. Also check out his profile on Ushombi here.
Don't wait any longer in your search for a trustworthy real estate agent that has your best interests in mind. Reach out to Daniel today, he can help you successfully navigate the maze of finding your perfect home.