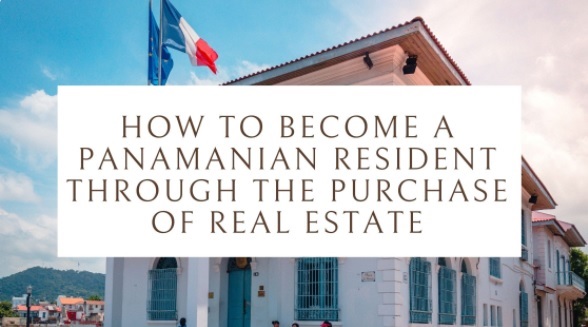 How to Become a Panamanian Resident Through the Purchase of Real Estate (And Why You Should!)
Have you ever wanted to become a resident of another country but you aren't sure where to start? The world is such a big place, there is no reason to only live in one country for the rest of your life! However becoming a resident of another country can often seem like a difficult and daunting process. 
It is very easy to become a resident of the country of Panama through the purchase of real estate. And becoming a Panamanian Resident is a good idea if you want to live a longer life with less stress and fiscal responsibility.
If this sounds like something you want for your life (after all, who doesn't want a life with less stress?) then keep reading to find out more about how to become a resident of Panama and why you should begin taking the steps to do so.
How to Become a Panamanian Resident
When you want to become a resident of another country, there is no easier place to do so than in the country of Panama. This is because Panama has not one, but three different residency visas you can qualify for through a real estate purchase. This makes obtaining a Panamanian resident a piece of cake!
FRIENDLY NATION VISA
The first type of Visa you can get is a Panamanian Friendly Nation Visa. This visa is available to anyone who is a resident of a country on the list of "friendly" countries to Panama. This list of course includes the United States as well as most European countries, Brazil, Canada, and several countries in Central and South America. If your country is on the list, then you are in luck because the process for becoming a resident only takes 2 years, and after that you will receive your permanent residence card.  
The requirements for this visa, besides being from a country on the list, also include owning a property worth $200,000 USD that you must own for the entirety of the 2-year period. It's that simple. You must also show documentation that you are financially able to support yourself in Panama, but if you already own the property, this is the easy part!
PANAMA RESIDENCY BY INVESTMENT PROGRAM
If you aren't from one of the countries listed for the Friendly Nation visa, you may be wondering if there is any way for you to get residency in Panama, and not to worry, as the Residency by Investment program is open to everyone! This program is similar to a Golden Visa program and is open to anyone that has a real estate investment within the country of Panama that is valued over $300,000 USD (until October 2022, then the amount raises to $500,000). Like the Friendly Nations Visa, you don't have to live in the country for the 5-year temporary resident visa period, and you are free to come and go as you please. Do note that you must own the property for the entire 5-year period.
PENSIONADO VISA
Maybe you are looking at the large numbers listed above, and are losing hope because you are a retiree on a pension. Well, the Panamanian government has something for you too! If you are a retired person receiving a pension of at least $1,000 USD form any government or private company, you can apply for this visa. The only caveat is, this pension must be proven to the Panamanian government that it is for life. If your pension is lower, say between $750-$999 USD per month, the Panamanian government will still allow you to apply to the Pensionado Visa program, but you must also own a property of at least $100,000 USD in Panama.
Why Should You Become A Panamanian Resident?
Politics and economics are always changing. And although you may be happy with where you are living right now, there is no guarantee that you will continue to be happy in your location forever. Not only that, but as you age, life continually gets more stressful and expensive. Becoming a Panamanian resident can help with all of these things.
First of all, Panama has one of the best programs for retirees, offering them not only the visa mentioned above, but a whole slew of discounts on everything from their utilities, to public transport, healthcare, and even entertainment! This means that if you are facing a pension that may be a bit low to live comfortably in the US, you can live in Panama on that pension with no problem whatsoever.
Additionally, many countries have high taxes, that are only getting higher as the years go by. And when living on a limited income, it can be difficult to see a large portion of your money go to the government. Panama has a unique tax law that qualifies that any money made abroad is not taxable in Panama. And the US government allows American citizens that live in Panama to exclude $107,000 of their earnings from US taxes. This means that if you make under $100,000 you will pay no taxes and you will get to keep more of your money to spend on the things that you need.
Have any questions about Red Frog Beach real estate and investing in Panama? Contact us
This blog was originally posted by Kasey Smith of Red Frog Island Real Estate in Panama. If you are interested in checking our all the Caribbean properties Kasey has to offer, then contact her here!