Caribbean Villa Showcase
Today we are going to take a look at a few villas around the Caribbean that are right here on Ushombi. Not only do we have many villas for sale we also have Caribbean property for sale on several islands. One of the perks of living in a villa is that, most likely, they are located in a gated community which can host a community pool (if the villa doesn't have one itself), tennis courts, gym, clubhouse and maybe even a small spa. Not to mention higher property values, controlled access and no solicitation which is always nice. All of the previous mentioned reasons are very attractive to home buyers who want to live in a higher quality and peaceful area.  
Having a beautiful view of the ocean from your villa whether it is from your infinity pool, jacuzzi, your patio with your friends over for a BBQ, being able to watch the sunrise and sunset and enjoy life in a secure & beautiful home always adds value to life. 
Let's not forget about all the fun Instagram pics you can take!
Let's jump in and just click on any of the pics to go straight to the listing.
Let's take a look at a spectacular home in the beautiful islands of Turks & Caicos called Windermere! This beautiful villa is offered by none other than The Agency Turks & Caicos very own Ian Hurdle.
Escape to paradise in style at Windermere, a stunning five-bedroom luxury Caribbean villa in the exclusive neighborhood of Leeward in Providenciales, Turks and Caicos Islands. Designed by world-renowned architect Ron Shaw, Windermere features generous outdoor space for alfresco dining under a shaded canopy, mixing drinks at the poolside wet bar or using your private boat deck to kayak on the beautiful turquoise canal. Fire up the gas grill with fresh snapper or grouper. This elegant villa also features an unforgettable swimming pool that extends under the living room floor and can be glimpsed through glass tiles on the ground.
Next up we take a short flight up to the Bahamas and check out a stunning offered by Mark Hussey & Bianca Aranha of Damianos Sotheby's International Realty.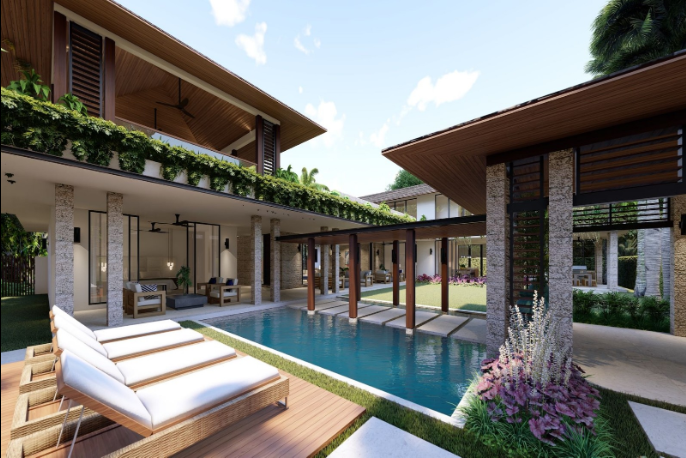 This exquisite contemporary home spanning a total of 8,869 sq. ft. is situated on an enviable 13,063 sq. ft. lot in the world-renowned community of Albany in southern New Providence, Bahamas. The home will be completed in late 2020 and boasts a total of 6 bedrooms, 6 full bathrooms and 3 half baths. Spacious and bright with many upscale finishes and appliances; the property is built to the absolute highest of standards. The meticulous attention to detail can be seen in the spectacular custom American Walnut kitchen boasting quartz countertops and exquisite cabinetry, along with Wolf and SubZero appliances, and well as a separate pantry.
The prestigious Albany resort boasts a collection of world-class amenities including a championship golf course, mega-yacht marina, club activities for adults and children, a variety of restaurants, a spa, water sports opportunities, equestrian amenities, tennis courts, and an exceptionally well-equipped gym.
The third villa we are taking a look at today is in St. Maarten and is offered by Arun Jagtiani of Ire Team Real Estate!
Perched at the height of a peninsular in the sought after area of Guana Bay, Villa Amalia offers the highest quality – everything.  Cool breezes, sophisticated designs, gorgeous fixtures and fittings, spacious rooms and a beautiful view over the beach of Guana Bay. Tons of amenities like 600-square feet heated saltwater lap pool, 40 feet long, indoor & outdoor sound system, 24/7 security & alarm along with AC in every room, near a golf course and gyms!
What a view!
Next we drop all the way down to the southern portion of the Caribbean in Curacao. This waterfront villa is brought to you by Ray Seijs who is the Chief Executive Officer of Curacao Sotheby's International Realty. 
This villa sits quietly in an additionally private section of the already secured and exclusive community of Jan Sofat. With only a handful houses on this first peninsula of Jan Sofat there is barely traffic and much serenity to be had. Subdued from outside and secluded by tropical landscaping the facade unveils a two story, waterfront villa upon arriving unto the driveway. With immediate views over the Spanish Water from your parking spot to your front door and beyond.
On top of the stunning views over the Spanish water this two-story villa is built with high-quality materials and equipped with modern day sustainable necessities. Among them a back-up generator for the villa and yacht, solar water heater and double septic tanks to maintain the lush garden.
For our final stop on this edition of Caribbean Villa Showcase is in Barbados with Kass Dobson of Seaside Reality.
San Flamingo is truly of a standard beyond description. Set amongst lush, green, exquisitely landscaped gardens, this marvelous example of antique design and architecture sits on a throne of panache on the Holders Ridge off the Polo Field. Strategically situated away from the hustle and bustle native to developing countries, nothing but a quiet, peaceful environment awaits.
Breathtaking views are at hand from every window. The lovely outdoor pool increases the enjoyment of the gorgeous landscape. There is also a private floodlit tennis court which includes a practice wall. Indoors you will find an extremely spacious, relaxing and delightfully furnished décor. Five air-conditioned bedrooms with en suite bathrooms, open kitchen, dining and living areas all add to the luxury and class of this stylish estate.
What a beautiful home!
That's it for today folks, we will have another Caribbean Villa Showcase coming up in the near future. Be sure to reach out to these amazing real estate agents if you are interested in the properties. Lastly, if you have a specific style of home you are looking for and you can't seem to find it on Ushmobi then let us know and we can help you out! We have a huge network of real estate agents all over the Caribbean and we would love to help you out.