Island Life Opportunities
Do you recognize 'Wilson'? Cast Away was such a good movie huh? Well, the island life we are going to discuss today isn't quite like the one in Cast Away with Tom Hanks. Don't worry, we got you covered 😉 
Have you ever wondered if you could live on an island? Well, island life is pretty sweet! With the tropical climate, beaches and tourist hot spots there is always something happening. With lots of Caribbean residential real estate for sale we know you can find something on Ushombi so today we are going to check out some opportunities for life on an island! 
Let's start with Puerto Rico. 
This is a beautiful, tropical home is located in an exclusive neighborhood of La Colina which has many spacious and beautiful homes and is only a 20 minute drive from Luis Munoz Marin International Airport in San Juan. With amenities like a swimming pool, 25kw generator, water tank, and a pool table (billard) this home is sure to put a smile on your face and be a great investment. With Act 22 providing tax incentives to business owners and real estate investors in Puerto Rico this home is a great opportunity to take advantage of tax breaks.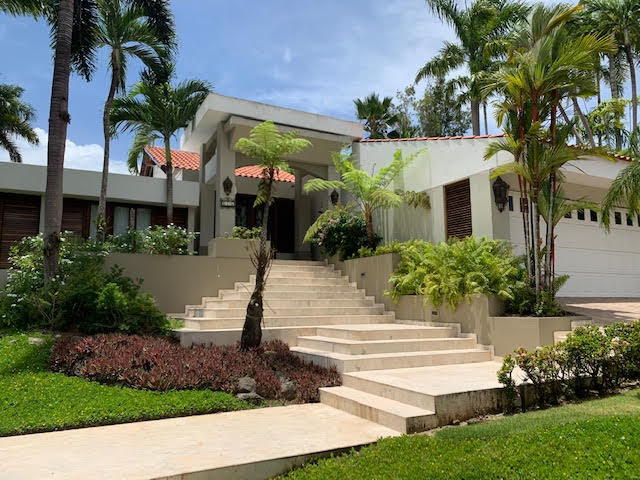 Our next stop is Isla Mujeres, Mexico where we visit Isla 33 Villas.  Isla Mujeres is an island that is a 30 minute ferry ride off the coast of Cancun, Mexico. This beautiful island is a great place for a day trip or life in an exclusive community of island dwellers. This fully furnished ground floor condo has 2 bedrooms, 2 full baths and is move-in ready. Features include custom jacuzzi, and shower, stone, granite, and marble finishes, and hand made furniture. This unit comes with 2 terraces, including a private backyard. The entire building has a proven rental history so this makes a great investment!
Our last stop on this "Island Life Opportunity" tour is in the Dominican Republic. Punta Cana is really an incredible place with all it has to offer. Here is a little tax secret you should know, for purchasing here in the Dominican Republic we think one, if not the most important question to ask the realtor is if the property falls under the Tourism Incentive Law #158-0 which allows the buyer to not pay tax on the title of the property. Why not save yourself $10,000 US Dollars or more if you can? Make it a smart purchase. 
Ocean Bay Luxury Beach Residences is going to be a wonderful place to live. These units are available in December 2021. With 5 star amenities like an Exclusive Club House with Restaurant & Bar, Spa, Wellness Center, Private Beach Club, Public Beach Club, Ocean View Pool, and a Beach Bar this property is a real treat. 
With great opportunities like this you won't want to pass up! Tax incentives and the opportunity to build residual income is enough to make any serious investor consider these great options. Don't let these options pass you by, reach out to the agent, become familiar with the tax incentives and get a set of keys in your hands before it's to late!